Rider Series Design Concept
 Shape Shifting 
"A rectangular shaped sling bag that transforms into the size of a hand clutch... and vice versa."

With this design, we were able to use Rider Series bags per occasion, either as a rider bag, shoulder bag, or even just an iPad or laptop sleeve.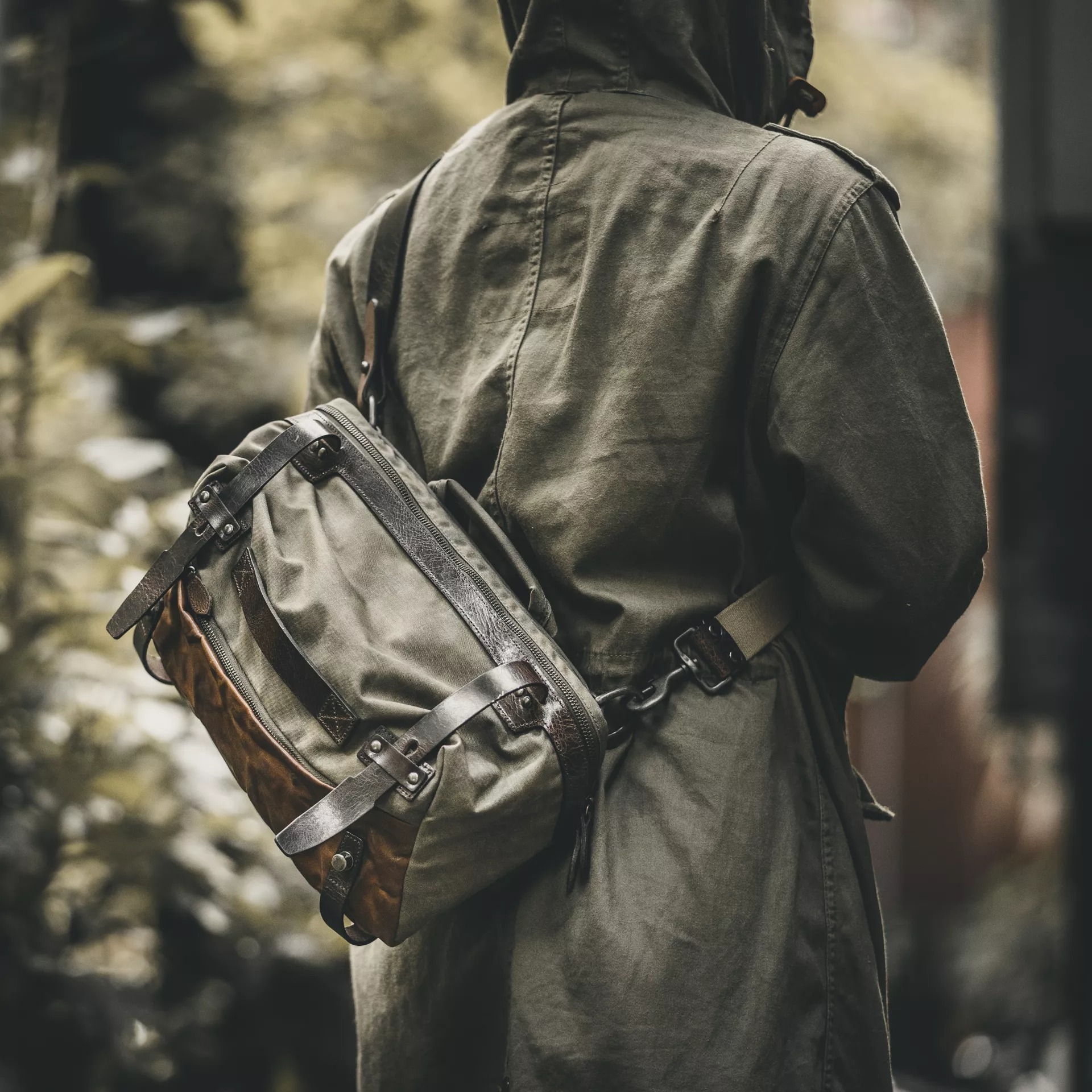 The Rider Series is framed with Cordura © fabric, meaning that the profile side of bags are extremely pliable, capable of extending space in an instant. All it takes is a simple release of the 2 front leather fasteners, to fully release the rectangular interior space.
3-Point Stabilizing
When riding, clip the auxiliary strap to the "stud buckle" on the leather shoulder strap pad.
 
The auxiliary strap will wrap around the arm, stabilizing the bag to the upper back. This reduces the "bounce" when riding at high speed and the bicycle starts to bump, giving the rider more stability and focus.
Materials & Crafting
W.A.L stands for the 3 key functional features of the fabric:
Water-resistant:
The underside of the fabric is laminated with highly cohesive PU (Polyurethane), which stops the water particles even when they seep through the Cordura © fabric surface, so that they evaporate with time.

In addition, the surface of the fabric is treated with wax layer, so that water drops will be temporarily blocked and be shaken / wiped off. The wax layer also narrows the stitching holes on the fabric, minimizing the chances of water entering the other side.
Abrasion-resistant:
Even since its invention in WWII, Cordura © has always been the NO.1 choice of military surplus manufacturers to create "abrasion-resistant" gear, and many of the US military surplus uses features of the Cordura © fabric as the general standard.

The Cordura © 500D that WOTANCRAFT uses can sustain physical abrasion and scuffing from natural environments, as well as scratching from metal objects such as generic keys.

The ultra toughness of the fabric weaving also ensures that the fabric doesn't extend and tear open from the seam stitches due to heavy duty carrying.

Lightweight:
From the first generation WOTANCRAFT bags that use 100% cotton waxed canvas, we have listened and integrated the feedback from photographers worldwide, making "lightweight" a top priority in designing our new bags.

The Cordura © 500D fabric we use is 50% lighter than the previous cotton waxed canvas, while providing way superior toughness and durability.